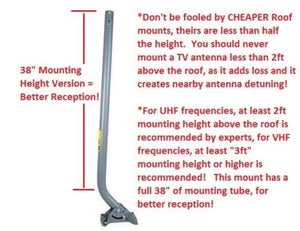 TV Antenna Roof Mount with 38inch Mast
*Note: This item's included 38" mast is 1.66" O.D., (will work with our Heavy Duty Insane Gain Models such as our XPS-1500. however is too large diameter for our Standard Duty models and our 360 Degree Omni OB-130 model).  
This antenna mount with 38" (1.66" outside diameter) mounting tube included, is a simple, easy to use satellite and/or TV Antenna roof mount, Item includes a much taller mast (38") so you can get the antenna a full 3ft above the roof height.  Most TV antenna mounts online come with only an 18" to 19" pole or mast.  However, such short masts are not recommended for TV antenna use because it's not enough clearance height for the  antennas to efficiently propagate / receive the signal and they also provide poor clearance for rotating dishes and antennas.   For TV antenna reception, it's recommend to place the antenna at a mininum of 2ft above the roof or higher at UHF frequencies / channels and a full 3ft or more height if you also have VHF channels in your area. This is because shorter mounting heights above the roof creates antenna detuning and also adds loss (the antennas need room to move freely propagate at their designated frequency without nearby materials detuning them).  This is why you shouldn't use the shorter roof mounts for TV antenna use.  For satellite or dish antennas, very short masts may also create clearance issues, which is another reason to get a roof mount with at least a 3ft mast.
This 38" J-Pole Antenna and Satellite Dish Mount is a highly versatile all-in-one mount that can be used with antennas or satellite dishes. Can be mounted on the roof, wall, chimney or any other flat surface. J-pipe is reversible from mounting foot for a variety of positioning options. Gray weatherproof coating. 
WATERPROOFING / WEATHERPROOFING:
Don't forget to waterproof / weatherproof your roof install and lag screws that penetrate the roof or shingles. Adding the proper roofing sealant that works well for your roof type is recommended by experts (these are available at most local hardware stores).  

For example: for common asphalt shingles, generally a quality roof cement or Tar patch, (also known as bishop tape, and pitch patch) are suggested to seal and waterproof the bolts and bolt heads.
SPECS:
Galvanized Steel Pipe
38" long in length, top of mount stands 38" above mounted location
Steel wall thickness is .060"
Pipe outer diameter is 1.66"
Electro-applied grey coating for maximum protection against the elements
WHAT'S INCLUDED:
38" long mounting tube
Mounting Base with adjustable angle
Hardware to assembe tube to base included (antenna clamp or antenna clampling hardware not included, but should come with antenna).
WHAT'S NOT INCLUDED:
Waterproofing Materials (roof cement or tar pads to fully cover the bolts and bolt heads, however these are available at most local hardware stores).  
Please Be Safe With Your Install, Also Read & Obey:
choosing a selection results in a full page refresh
press the space key then arrow keys to make a selection