A Little About Us:
ABOUT US: Top Notch Antennas is the brand owner and creator of the RangeXperts TV Antenna and the Almighty Antennas two way radio antenna lines and is a US veteran owned company. Support and customer service is in the USA.
Our goal is to offer indoor and long range outdoor HDTV antennas at a reasonable cost. Much of our outdoor TV antennnas are also also US engineered.
Top Notch Antennas actually encompasses both our TV (Range Xperts) and our Two Way Radio (Almighty Antennas) brands.
Our popular Range Xperts brand's Insane Gain models were designed and US engineered. Our insane gain models are available in two variations (long range on the UHF band only and a version that offers long range on both the VHF & UHF bands) and are what is known as being "Deep Fringe Capable",(designed to reach far away / weaker stations).
We also back up the quality of our Range Xperts TV Antenna product line by doubling the length of their warranty period from the industry standard of one year to two full years. This extra year of warranty period is at no extra cost!
Our initiative is to offer a truly quality product, yet at a reasonable cost.  In many cases many of our products are less than a what some consumers are paying for just a single month of cable! If you're ready to cut the cord, we're here to help!
To Learn More About Us, visit our About Us page.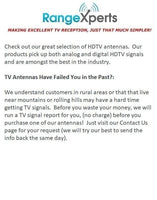 Thank you for your interest in our products. The owner is a US veteran (signal corps), long time Ham Radio operator, and former Telecom Engineer and as such has a passion for quality antennas.